Characterizing and Assessing Drought Risk and Drought Impacts at the Global and Regional Level
| | |
| --- | --- |
| | Description & Learning objectives |
The first introductory webinar & lecture provide a general overview of the objectives of GlobeDrought. It will discuss the relevance of understanding and assessing drought risk and its sectoral impacts in order to create more resilience societies.
The leading questions are: What is a drought, how can it be characterized, why does it matter globally (past events & impacts, future outlook), what is drought risk, what are key components, why do we need to understand and assess drought risk?
| | |
| --- | --- |
| | Duration |
Date: 26/02/2019
Time: 2:00 PM to 3:00 PM (CET)
This webinar will last around one hour. 30 minutes presentation, 30 minutes Q&A.
| | |
| --- | --- |
| | Speakers |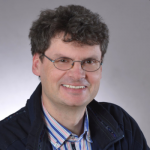 Prof. Dr. Stefan Siebert
(Uni Göttingen)
Stefan Siebert currently works at the Department of Crop Sciences, Georg-August-Universität Göttingen, as a Professor for Agronomy / Crop Science. Stefan is researching strategies for increasing crop production while reducing its environmental footprint, impact of climate change and climate variability on crop growth and yield, crop modeling, development and analysis of big datasets on the use of water, land and nutrients for crop production, sole and combined effect of abiotic stress (drought, heat, frost, nutrient deficiency) on crop growth and yield, integrated assessment of drought risk and drought impact in crop production.
Stefan is also leading the GlobeDrought project as Principal Investigator.
| | |
| --- | --- |
| | Webinar hosts |
| | |
| --- | --- |
| | Registration Link |
Characterizing and Assessing Drought Risk and Drought Impacts at the Global and Regional Level